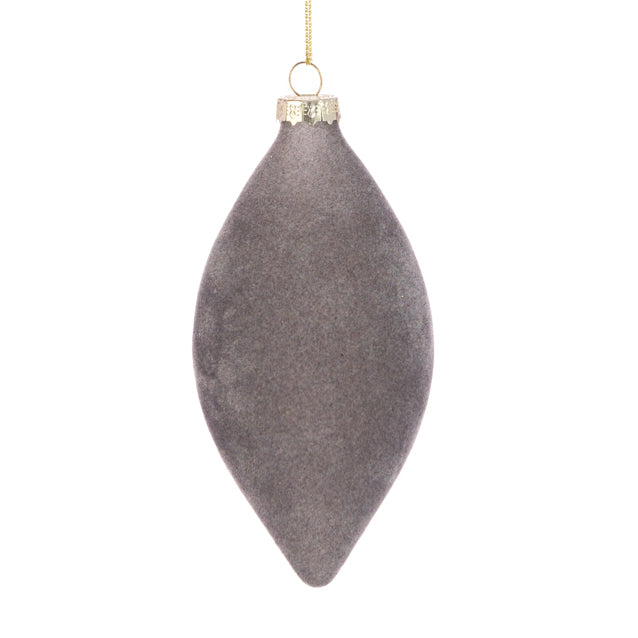 GLASS GREY VELVET FINIAL BAUBLE
Elevate your holiday décor with our exquisite Grey Velvet Finial Christmas Bauble. This opulent ornament combines timeless elegance with a contemporary twist, making it a standout piece for any festive display. Crafted from premium materials, the bauble's plush grey velvet finish exudes sophistication, while the finial shape adds a touch of whimsy.

The bauble's neutral hue lends itself to versatile styling, complementing a wide range of color palettes and themes. Its carefully curated design and impeccable craftsmanship ensure it becomes a cherished keepsake, year after year. Measuring 6 x 13cm, it makes a striking statement on your tree, wreath, or garland.

Key Features:

    Luxurious grey velvet finish for a touch of opulence
    Finial shape adds a unique and playful element to your décor
    Versatile color complements various holiday themes
    Premium craftsmanship ensures durability and longevity
    6 x 13cm size makes it a noticeable focal point in your holiday display
    Doubles as an elegant gift or stocking stuffer for loved ones

Evoke a sense of sophistication and style this holiday season with our Grey Velvet Finial Christmas Bauble. Its exquisite design and high-quality materials guarantee it will be a treasured addition to your festive traditions. Elevate your holiday décor effortlessly by adding this elegant bauble to your collection today!